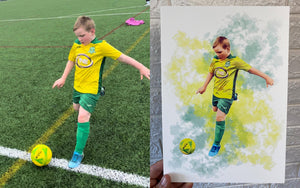 Introducing our Custom Footballer Prints: Personalised, Epic, and Unforgettable!

At Gulppp, we offer the ultimate custom footballer prints that capture the essence of your favorite football moments. With our unique printing process, we bring your chosen image to life, transforming it into a mesmerizing work of art. Our in-house graphic design team adds a touch of magic by incorporating a cloud of smoke, elevating the epic effect of the final product.

Choose from our premium materials: 5mm thick matte foamex (PVC) or glossy poster paper. The matte foamex option provides a sturdy and durable finish, while the glossy poster paper option exudes a vibrant and glossy look. Want to take it a step further? Opt for our framed glossy poster prints, enhancing the presentation and making it an exquisite gift.

Perfect for football end-of-season celebrations, our custom footballer prints are suitable for both adults and kids. Show your gratitude to the manager who led the team throughout the season with this thoughtful gift. Not only can we bring your vision to life using your own images, but we also have access to a wide range of professional footballers' images to create a truly exceptional piece.

If you have any specific requests or queries, don't hesitate to reach out to us at info@gulppp.com. Our dedicated team is always happy to assist you. Choose Gulppp for an unparalleled and personalised football memorabilia experience.